Shaping the future – for the past 50 years
On 1 April 2020, HAW Hamburg marked 50 years since its founding in 1970. That year, various institutions joined together to form the Fachhochschule Hamburg, which offered engineering training at the university level in Hamburg for the first time. The saying at the time was 'Engineers come from Berliner Tor.'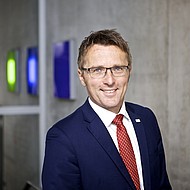 Fifty years of applied science in Hamburg – that's 50 years of lively exchange between our university and many important societal actors. We've been shaping the future for the past 50 years, and we want to show this on our anniversary.
Prof. Dr. Micha Teuscher, HAW Hamburg President
A university in transition – stories about HAW Hamburg's history 
This commemorative publication (in German only) has been created to mark the university's fiftieth anniversary. It contains articles about HAW Hamburg's history that have been written over a period of 15 years and have now entered into the present together with the newest essay: 'HAW Hamburg. A university in the twenty-first century'.