Our co-working space on the sixth floor at Jungestraße 10 (Berliner Tor Campus) is an inspiring space for joint planning, brainstorming or work. You can drop-in spontaneously during our opening hours, or you can sign up to use the space on a regular basis, either alone or with your start-up team.
The great views of Hamburg provide lots of inspiration for good ideas.
Please be sure to check the status notifications at the top of the German version of this page before you head to the co-working space as the hours sometimes vary in response to unforeseen events.
Admission times for drop-in use: Tues–Thurs, 10:00 am–3:00 pm (open until 8:00 pm)
Prerequisites for using the space
You are a HAW Hamburg student or staff member, or a HAW Hamburg graduate who is registered with the HAW Hamburg alumni office.
You have a student ID card, an employee ID card or an alumni card (plus personal ID) and can present this to us.
You are looking for an idea for a start-up or you already have an idea and and want to develop it further.
If you need some sustenance while working...
... a short walk will certainly do you good. You can get to the little organic bakery around the corner on Klaus-Groth-Straße in about two minutes, or you can walk to the Berliner Tor train station, where there's a large selection of food to go, in about four minutes. If you head along the street Beim Strohhause from here you'll find lots of small cafes. The campus cafeterias are also only about seven minutes away. And of course, you can also use our kitchen to make a hot drink. Cups are available.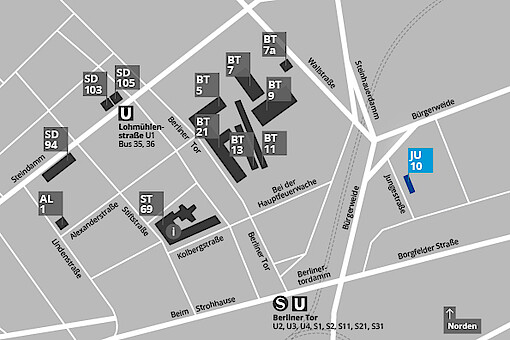 HAMBURG UNIVERSITY OF APPLIED SCIENCES
ZfK – Zentrum für Karriereplanung
GründungsService
(Career Planning Center and Start-ups Service)
Jungestrasse 10
20535 Hamburg
T +49 40 428 75-9023