Design and Art – exchange students
Hamburg is Germany's second-largest city after Berlin and home to 50 museums and galleries. With its creative scene and large publishing houses, it is the ideal place for art and design. The Design degree courses at HAW Hamburg (Campus Finkenau) are characterised by an intensive foundation in artistic and design techniques, together with creativity and innovation. This is followed by the development of design concepts that are realised in a wide spectrum of media applications from book illustration, comic and web design to fashion collections and textile design.

Art and Design exchange students from our partner universities can study for one or two semesters at HAW Hamburg and can choose from the following (mainly project-based) courses:
Design and Art – courses where German is not required*
Book Illustration*
Brand Design
Costume Design in Films & New Media
Design Theory and Philosophy
Drawing*
Editorial Design*
Fashion Design*
Interaction Design*
Interactive Illustration & Games
Painting*
Photography*
Textile Design
Type Design
NOTE:
1. Classes marked with a * are taught in German with an English tutorial support. German is not required to complete the course, as they are project-based.
2. 'Design Theory and Philosophy' is held in English.
3. The other classes are a mixture of English and German. Translation is provided, so knowledge of German is not required.
4. Students can take a maximum of 30 ECTS credits in one semester.
NOTE: These classes are higher level courses that require a good foundation of knowledge in the subject. They are therefore open only to exchange students who are studying design or art as a major at their home university. Applicants must provide a portfolio with their application. The portfolio must show examples of work that reflect the classes you want to take in Hamburg. For example, if you want to take photography, then your portfolio must include examples of your photography work. We reserve the right to turn down applicants who do not provide an adequate portfolio.

Download the module handbook for a short description of the classes.

Note: The course programme can change each semester. You do NOT need German to complete the classes in all cases, but it helps if you have a bit of German and/or come to Hamburg with the intention of learning some German during your study-abroad semester.
Application deadlines:
Winter semester (Oct.–Feb.): 30 April
Summer semester (April–July): 30 October
(open to: exchange students from partner universities only; not open to freemovers)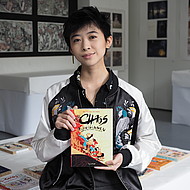 Art around the world is so different. I studied abroad so I could experiment with styles that I'm not used to and learn from students who see things that I don't.
Sarah Wong, USA