Our numerous and wide-ranging research, development and transfer activities are bundled within various structures and institutions. In addition to the research undertaken by individual researchers, our professors and research staff also work on jointly defined research topics within our competence centres, research and transfer centres, and research groups.
In our competence centers, we undertake interdisciplinary, cross-faculty work on key future-oriented topics. This puts us in a strong position to compete for students, instructors, funding and interesting cooperation partners.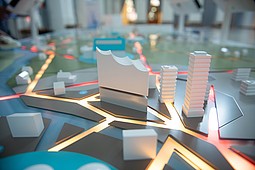 CC4E – Competence Center for Renewable Energies and Energy Efficiency
Renewable energies and energy efficiency are topics that have been firmly anchored at HAW Hamburg for a long time. The CC4E brings together the outstanding interdisciplinary competencies in this area to develop solutions to energy-related issues.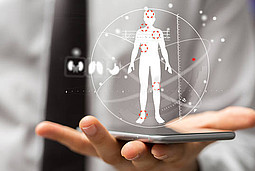 CCG – Competence Center for Health
In this competence center, six departments from the Faculty of Life Sciences and the Faculty of Business and Social Sciences address health-related issues and questions from a regional, national and international perspective and in line with the mission statement 'the best possible health for the entire population'.
Research and transfer centres (RTCs) and research groups
The so-called research and transfer centres (RTCs) work at the faculty level. They each have their own administrative structure and involve at least three professors, and in some cases additional academic staff, who undertake joint transfer-oriented projects on particular research topics. Cross-faculty cooperation within the research and transfer centres is possible.
Faculty of Engineering and Computer Science
Technical Acoustics RTC
3i RTC – industrial innovation in the area of 3D printing, welding technology, industrial and service robotics, and virtual and augmented reality
Smart Systems RTC – digital transformation
Future Air Mobility RTC (under development)
Faculty of Life Sciences
Medicine, Health and Technology RTC
Applied Life Science Technologies and Environmental Research (ALSTER RTC)
Faculty of Design, Media and Information
Digital Reality RTC
Centre for Design Research
Faculty of Business and Social Sciences
Cooperative Process Management in the Social Work and Healthcare Systems RTC (KoPM® RTC)
................................................................................................................................................................................................
The research groups are made up of at least three professors, and in some cases additional academic staff, who address a jointly defined research question and carry out related projects, usually at the department level but sometimes across departments and faculties. You can find information about the research groups on our Research Programme pages and those of the faculties and departments.