Media and Film – exchange students
With 700 film and television production companies, Hamburg is one of Germany's most important locations for audio-visual media. Studio Hamburg was one of the first television broadcasting companies established after World War II. Hamburg is also developing a focus on animation and games, with an increasing number of companies setting up business in the city.

Studies in the Department of Media Technology at Campus Finkenau focus on the technical side of media but also look at the artistic side of the world of film, theatre and television. Graduates are responsible for the technical and business planning of audio-visual productions. Film students from our partner universities can spend one or two semesters at the HAW Hamburg studying the following modules:
Media and Film – courses where German is not required*
Beginners classes:
Camera Acting (Film Project)
Design
Game Design
Innovative Storytelling (winter semester only)
Practice Dramaturgy (summer semester only)
Intermediate classes:
Media Project
Mixed Reality (winter semester only)
Perception (winter semester only)
Short Cut (Film Project)
Sound Design
Video Technology and Production
Advanced classes:
Media Design 2
Media IT Systems
Download the module handbook for more information about the classes and projects.

* Note: As these classes are mainly project-based, discussions and teaching slots can be either completely in English or a mixture of English and German, where the professors will provide support in English. Group projects can make English the team language and for all these classes knowledge of German is not required. When applying online, please choose the degree programme 'Media Technology'.

Application deadlines:
Winter semester (Oct.–Feb.): 30 April
Summer semester (April–July): 30 October
(open to: exchange students from partner universities only; not open to freemovers)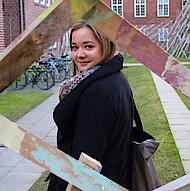 I enjoyed all of my courses because they were all very different, diverse and experimental. In "Innovative Storytelling in Digital Media" I had a brilliant professor to teach me the art of storytelling.
Sandra Fijn van Draat, Denmark