Nutrition and Health – exchange students
Each summer semester (April–July), the Faculty of Life Sciences at Campus Bergedorf offers exchange students the opportunity to take classes in English in Nutrition and Health Sciences. You can choose from the following courses:
Nutrition and Health Sciences

–

courses in English
Communal Catering Services
Consumer Behaviour
Food Marketing
German Food and Culture
International Human Resource Management & Leadership
Marketing Research
Project Management
Public Health Project: Intercultural Competences
Scientific Ergonomics with lab
Nutrition Behaviour
Sensory Analysis
Sports Nutrition
Academic English
Download the module handbook for more information about the classes.

In addition, if schedules and capacity allow, exchange students can also take one or two classes in English in the area of Social Work in the Department of Social Work at our Berliner Tor campus.

Application deadline:
Summer semester (April–July): 30 October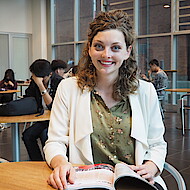 My favourite class was German Food and Culture. The best part was cooking different dishes every week with other international students.
Sara Stemberger, USA