Hokies go Hamburg - at zero G
Is it possible to study engineering and study abroad or is it just too difficult? Rima, Kelly, Tanner, Sami, Matthew and Cullen, aeronautical engineering students from Virginia Tech, are proof that it can be done.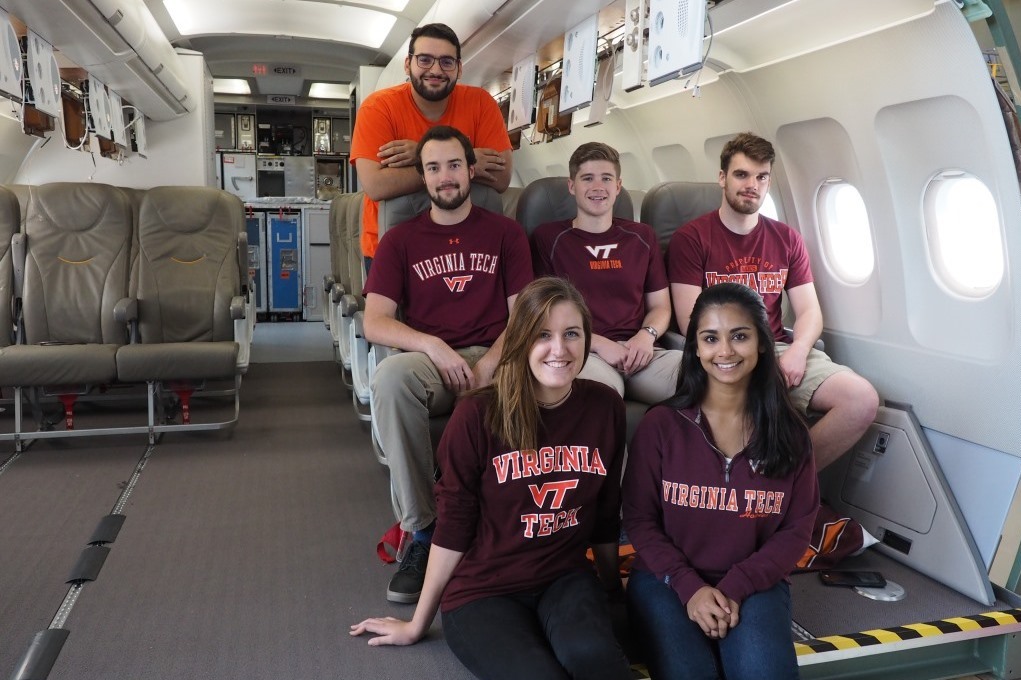 Virginia Tech exchange students 2017
At the end of their semester in Hamburg we met up with six Virginia Tech exchange students in the Cabin & Cabin Systems Lab of the HAW Hamburg to talk about their experiences. They spent a semester taking aeronautical engineering classes in English at the HAW Hamburg and for each of them the reasons for choosing to study abroad were different. For Sami and Matthew it all started with German classes at Virginia Tech. Sami's sister had spent a year of her degree in Paris and that put the idea of doing something similar into his head. He read about the exchange programme with the HAW Hamburg and thought it sounded interesting, so in his sophomore year he started taking German classes. »My teacher, Frau Orr, made Germany sound so interesting and she gave me so much good advice, that it was all the push I needed.« Matthew's parents have a business that takes them regularly to Munich and he has travelled with them several times and loves the country, so he started taking German classes when he joined Virginia Tech. »Initially I felt that I wouldn't be able to study abroad, because I thought it was too hard as an engineering major, but the Hamburg exchange programme with Virginia Tech made it seem possible«, Matthew explains, »and one day I just thought, I want to study abroad and live for an extended period of time in Europe, so I signed up.«
But knowing the language isn't a requirement for Hamburg and the other students got on pretty well without being able to speak German. »There is a kiosk near the campus Berliner Tor, where I regularly get Döner«, Cullen says. »They don't speak English and I don't speak German, but they know my order and we talk«, he adds, laughing.
Studying in Hamburg
And how is studying in Germany? »So different!« they all chorus together. »The classes have a different structure, they are really long and only once a week, they are more connected to industry and more focussed on commercial aircraft. And you learn a lot about Airbus«, they add. In addition to lectures Cullen also completed an independent study project during his semester in Hamburg. He worked on a cabin wheelchair prototype, that had won a Crystal Cabin Award[1] just a few months before. »I helped the professor to sketch the wheelchair in CAD in order to reduce the weight and work on how it could be folded away.« he says. »Tech professors are more hands-on and in Hamburg I had to work a lot on my own, which wasn't always easy. I learned to work a lot more independently.«
Sitting with the students you can feel the sense of relief at having survived the last exam of the semester. Some have a better feeling that others but all are glad that this challenge has been accomplished. »I am used to having regular assignments during the semester at Tech; it helps me to know what the professors are looking for«, Tanner says, and the others agree. »I prefer multiple exams, not just one at the end of the semester«, Kelly adds, »We said we weren't going to cram at the end, but…«.
---
[1] Crystal Cabin Award – Hamburg international prize for innovation in aircraft interiors www.crystal-cabin-award.com
We got to feel zero G and 2G and also did a stall. It was great to see you didn't just drop out of the sky like in a cartoon!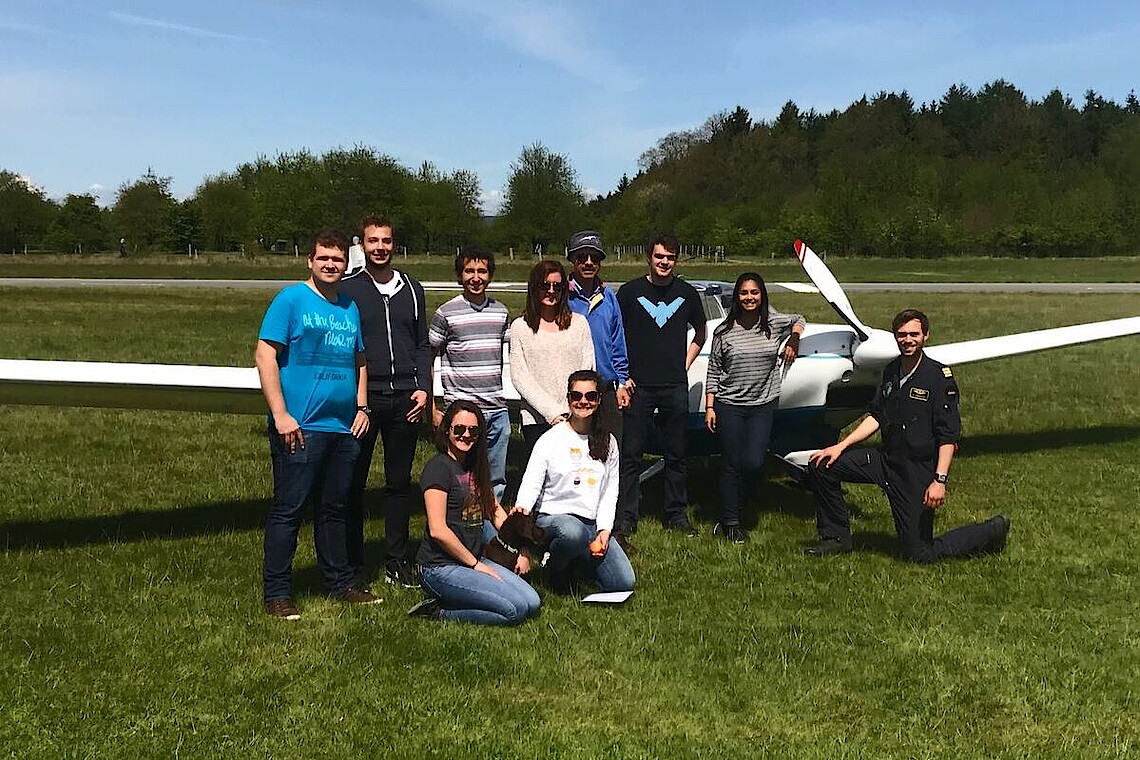 The students enjoyed being able to use the HAW Hamburg's A320 system simulators for maintenance training as part of the "Aircraft Systems" class and they think the mock-ups and equipment in the cabin and cabin systems lab are really cool, but for all of them their favourite memory is a day with Professor Gleine as part of the flight lab. »He took us for a 30 minute flight to do different measurement tests in the air«, Kelly says, »We got to feel zero G and 2G and also did a stall. It was great to see you didn't just drop out of the sky like in a cartoon«, she adds, laughing. The students were also allowed to take over the controls for a while and fly the plane back to the approach to the airport. »It was an amazing opportunity. I really want to learn to fly but it is so expensive«, Rima says.
Studying in Europe
Many students want to make travelling a part of their study abroad experience and this year's Virginia Tech students are no exception. Their list of places visited is long. »At the beginning of the semester we travelled every weekend«, Kelly remembers, and together they call out where they have been: Belgium, Switzerland, Barcelona, London, Turkey, Greece, Amsterdam, France and Copenhagen. London was Sami's favourite trip because it is an amazing city, while the mountains in Switzerland were Kelly's happiest moment, because she was away from the city. »There are so many places I still want to go to. And five months are definitely not enough to get to know all of Hamburg, so I am definitely coming back«, Kelly says. For Rima it was also an international experience spending time with other exchange students from all over the world. »The international students would hang out at Gustav [hall of residence]. We would have meals together, play table soccer or just hang out together talking.«
Studying abroad - lessons learned
And now, after five months in Hamburg, what are they taking away from the experience? »I am really a big 'home-body"; my twin is the adventurous one«, Kelly says, »so everyone was really shocked that I was the one who was going abroad. On the first day I thought, 'Oh my gosh' but after that I knew it was going to be a good semester. It really forced me to be more independent.« And for Matthew it was similar. »I had never lived in a big city before and with the different classes it was a lot to adapt to, but it was still a really great experience. I spent a lot of time at the lake or hours just wandering round the city. And it is the longest time I have gone without a car, but the Hamburg public transport system is really great.«
Sami is used to being abroad for longer periods of time, as his family is from Tunisia and they visit a lot. Studying abroad made him realise that he missed the little things, like talking to random strangers. »Germans are not big on small talk and I missed having random conversations with random people on the bus«, he says. »My Mum thought I wouldn't make it because before Hamburg I couldn't cook, but now I can and she is really impressed.«
For Rima studying abroad was a kind of lifeline. »The semester before I came to Hamburg was tough. I was suffering from anxiety with lots of doubts about my future and was looking for something to keep me in the aeronautical engineering programme«, she admits. »My mentor, Nicole Pelliccia, who is a Tech graduate, also studied abroad in Hamburg and she told me how that experience had really shaped her career and that I should consider it. So that is why I came. And now, looking back I can see how being in Hamburg has changed my perspective on how I look at life. The world has got a little bit smaller being with people from different countries and I am learning to be more positive. I am going to take German when I go back, so expect me for my Master's«, she says, smiling.
iw/July 2017