Being practical in biomedical engineering
A sports injury to her knee led Canadian student Amy Leson from a Bachelor's degree in mechanical engineering to a Master's degree in Biomedical Engineering at HAW Hamburg, where she discovered 'Kuchen' makes everything right.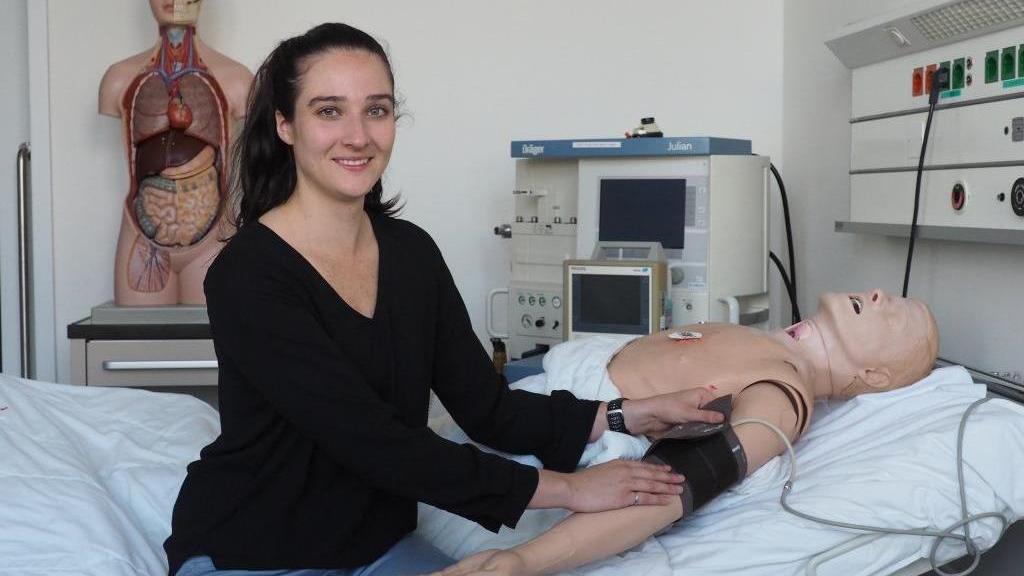 Amy Leson - Biomedical Engineering
Amy Leson is a true 'third culture kid', as she calls herself. Born in Calgary in Canada, she moved with her family at the age of three to Indonesia, where she spent the next eight years of her childhood. This was followed by five years in Texas, before the family returned to Canada in 2007. It was here that she studied for her Bachelor's degree in mechanical engineering at the University of British Columbia (UBC) in Vancouver. 26 year-old Amy is currently in the third semester of her Master's in Biomedical Engineering at the HAW Hamburg and is completing an internship in the area of bio nano sensors in preparation for her Master's thesis.
How an injury leads to biomedical engineering
Amy inherited her love for maths from her Dad and from her Mum a love of being artistic and creative. In her mechanical engineering degree she got to use both skills. 'In the second year we designed and built a hovercraft. It was a lot of maths', she says, laughing, 'but it was pretty cool to be part of a creative, hands-on project'. It was during her studies at UBC that a sport's injury to her knee made her think about the path she wanted to take in her engineering career. 'I tore my PCL and so months of wearing a knee brace and going through rehab to get me back on my feet developed my interest in the prevention of injuries and diseases', she explains. 'It showed me what a big machine the body is and I found that fascinating'. And so she chose a specialisation in biomedical engineering as part of her Bachelor's degree to take this interest further.
How internships lead to learning
Studying in a five-year co-op programme Amy was able to develop her knowledge of biomedical engineering by doing internships in industry during her studies. She worked for four months for a company that makes brain stents and eight months for a heart valve company. She also combined her love of bikes with an additional four-month internship with a company who makes bike trailers for children, looking at safety standards and testing methods. 'The internships showed me the importance of learning how to learn. Biomedical engineering is such a wide field. It is important to know how to teach yourself but also to acknowledge what you don't know, so you can develop yourself further.'
She also participated in an extracurricular international student competition, where her team built autonomous soccer-playing robots. 'The project technology was a good bridge to medical aspects because artificial intelligence will be playing an ever-increasing role in the future of the biomedical industry', she explains. 'It was also my first contact with Germans!' she remembers, smiling. 'We played against other international teams and the students from Germany were super fun and we learned a lot from them.'
When I started looking at Germany as an option I was surprised to see that a lot of Master's degrees are much more project-related and practical.
How love leads to Germany
As a university we like to think it is our great marketing campaigns that bring students to Hamburg but in reality it is often an 'important other'. As a Bachelor student Amy met Michael, a German Master's student at UBC, and he is one of the reasons Amy chose to study in Germany. But not the only one. Trying to find a job in the Canadian biomedical industry, Amy soon realised there is only so far you can get without a Master's degree in biomedical engineering. The problem was, that wasn't what she was looking for. 'I had always said I didn't want to do a Master's degree, because the Master's programmes in Canada are very focused on research and you spend two years in a lab. I knew I didn't want to do that. But when I started looking at Germany as an option I was surprised to see that a lot of Master's degrees are much more project-related and practical', she says. She applied and was accepted by a number of universities but her boyfriend in Heidelberg told her to choose Hamburg. 'He told me everyone in Germany wants to live in Hamburg', she says, laughing, 'and he was right. Hamburg is gorgeous!'
How theory connects with industry
Two semesters have since passed and Amy remembers them as 'jam-packed, with seven modules each semester'. She describes the degree at the HAW Hamburg as project-based with a focus on programming and electronic engineering. This was a welcome addition to her mechanical engineering background. She likes the fact that they are a small group of students and found it easy to connect with the other German and international students. 'Looking back we did so much in two semesters. It was mostly team-based learning; learning how to work with other students. We also got to work with professors on research projects and a project I worked on with Professor Tolg recently had two papers published and presented at a conference.' One of her favourite classes was with Professor Lichtenberg, looking at the analysis of journals and research papers and doing hands-on projects with MATLAB.
But for Amy the best is still to come: 'It was huge for me that I can do my Master's thesis in industry!' she says, smiling. In preparation for her thesis Amy is doing an internship with Biomed X in Heidelberg, where she is involved in MATLAB projects. She is doing programming for data analysis and auto-CAD work for bio nano sensors. 'Biomed X is a research centre that collaborates with industry and their research needs. It is great to see how industry and research interact in a way that benefits people.' With her project supervisor she is looking for a topic for her Master's thesis and is using her time with Biomed X to make contacts with industry for after graduation.
How 'Kuchen' makes everything right
Looking back she sees how things have linked together. How an injury and internships led her to biomedical engineering, how connections with strangers at home brought a new future abroad and how a Master's degree in Hamburg is the link to the biomedical industry in Germany. She attributes her success to the way she focuses on her goal of becoming a biomedical engineer, her enthusiasm in trying new things and her ability to step outside her comfort zone. She believes these are all important things in making a good engineer. Amy has also been fortunate in having female role models to support and encourage her. Her roommate and close friend, Andrea Palmer, studied with her at UBC and they supported each other in the many difficult decisions during their Bachelor's degree as did her professor, Elizabeth Croft. 'She breaks barriers left and right and was always very supportive', Amy says. 'She is also leading the UBC campaign to make engineering more accessible for female students.'
Before Amy came to Hamburg she didn't speak any German but has since reached level B1. "Dienstag bis Donnerstag are German days" is the way she describes how she has learned the language. 'My classmates, my roommates and my boyfriend all pull together to help me. It is a real team effort.' Moving from Canada to Germany wasn't a huge culture shock, though she misses the mountains in Hamburg – and ketchup chips! If she is honest then she feels the Germans could work on their ability (or lack of it) in small talk, but they make up for everything with their delicious cakes. 'Kuchen!' she smiles, 'German cakes are fantastic!'
iw/2017