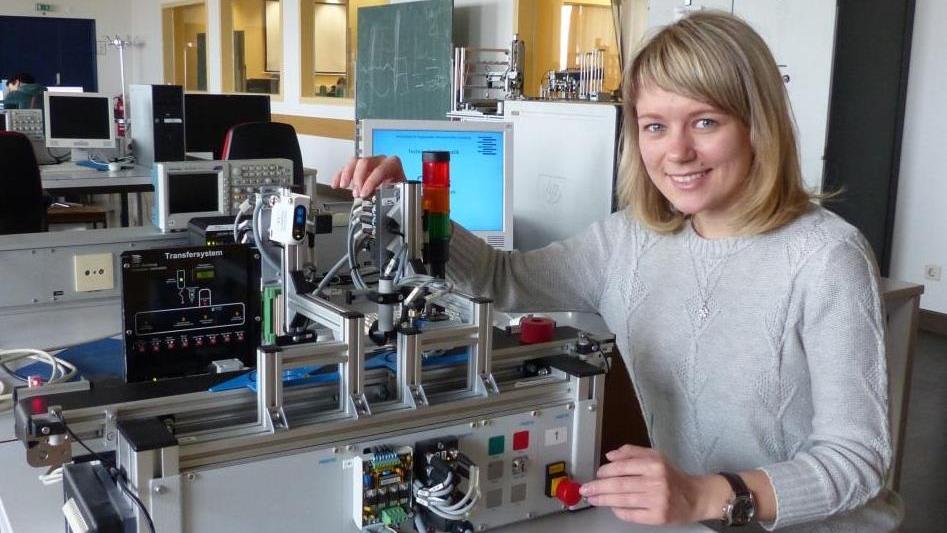 Daryna Andreeiva - European Computer Science
At home in Ukraine she studied English and German. When she started looking at degree courses in Germany, she wanted a course in a different subject area but one that still involved languages. 'The European Computer Science (ECS) degree course at HAW Hamburg is a great opportunity because you don't just study in Hamburg, you also study abroad for one year,' she explains. 'In September I will go to Spain to study for two semesters and write my Bachelor thesis.' In preparation she is busy learning Spanish, which isn't difficult for her because she's a natural when it comes to languages. Spain is only one of the options offered in the ECS degree course. Students can also complete their year abroad in Finland, France, Italy, or Portugal.
She did have difficulty with the technical subjects in the beginning, though, and the first year of studies was very difficult. 'The way the degree courses are organised in Germany is very different from in Ukraine, and it took me two semesters to understand everything,' she admits. 'But the professors in Hamburg are really cool – much more relaxed than in Ukraine. They know you and you don't have to be nervous about asking them questions.' Another big difference is who her fellow students are. 'In the Ukraine I was surrounded only by girls during my studies. In Hamburg I'm surrounded only by boys,' she laughs. And as a woman, is she accepted? 'Yes, we're a good group. In our projects we make sure that the work is shared equally. But I have to watch a bit more football to be able to be part of the conversation,' she says with a wink. At 35 per cent, the percentage of women in the ECS course is actually very high compared to the other engineering degree courses. But at the large Berliner Tor Campus with its many engineering courses, male students definitely make up the majority.
It's great to gain work experience related to my studies ... the degree gives me a lot of options.
Now, in her fourth semester, Frau Andreieva's studies are going really well and the lab projects are what she enjoys the most. Here she doesn't just work on technical topics such as programming and plant construction, but also on project management. 'We learn how to create a project plan and track milestones, as well as how to distribute tasks and make sure that solutions and goals are achieved jointly,' she explains. 'I can definitely use these skills later in my work.' The project teams are supported by professors, who check on a weekly basis how the students are progressing and where they need assistance.
And since the beginning of March Frau Andreieva has been able to apply what she's learning in her job as well. She now works two days a week as a software tester for a bank alongside her studies. 'It's great to gain experience related to my degree,' she says. 'I don't know exactly which area I want to work in later, but the course gives me a lot of options.'
What is clear, though, is that she would like to stay in Hamburg, where she now has a solid circle of friends. 'We meet regularly for barbecues in the Stadtpark or for bike tours. Life in Hamburg is very pleasant.' In the holidays she goes home to her family in Krywyj Rih, 600 km from Kiev and, with a length of 145 km, the longest city in Europe. She used to commute one and a half hours each way to attend her lectures. Hamburg may be a big city, but the distances here are much shorter.

iw/2014