Automotive Engineering – exchange students
With its international brands Porsche, BMW, Mercedes-Benz and Volkswagen, Germany's automotive industry is world famous and a driving force of the German export industry. HAW Hamburg is one of a very small number of German universities with an Automotive Engineering degree course at both the Bachelor and Master levels. Our degrees focus heavily on design, and our professors have all worked in industry before joining the university. Close cooperation with the automotive industry ensures practice-oriented degree courses, insight into the latest market developments and excellent career opportunities.

Each summer semester (April–July), exchange students from our partner universities can gain an understanding of German automotive engineering expertise through the following classes in English at Campus Berliner Tor:
1. Automotive Engineering – courses in English
Introduction to Body in White Design
Introduction to Commercial Vehicle Design
Introduction to Vehicle Dynamics
Drive train Design
Finite Element Methods (FEM)
Engineering Design Team Project
Automotive Engineering Research Project
Download the module handbook for more information about the classes.
2. Automotive projects open to exchange students
In addition to taking classes at HAW Hamburg, exchange students can also participate in the following projects as extra-curricular activities:
Join the AUDEx research project in automotive development in 1:X using realistic remote-control vehicles. AUDEx Website
Join HAWKS, our very successful Formula Student Racing Team, and get hands-on experience in designing and building a racing car. HAWKS Website.
Note: students may also be able to take classes in aeronautical engineering and mechanical engineering (all within the Faculty of Engineering and Computer Science) if lecture schedules and capacity allow.

Application deadline:
Summer semester (April–July): 30 October
(open to: exchange students from partner universities and Global E3 partners only; not open to freemovers)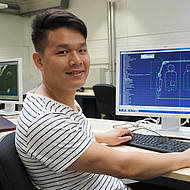 It is great to study something you are passionate about and awesome when your professor in Hamburg was one of the engineers involved in designing the car you drive.
Nick Man, USA