Computer Science – exchange students
Computer Science is everywhere. Regardless of whether you are interested in pure science or applied software engineering or thrilled by the idea of interdisciplinary research, HAW Hamburg will provide you with an interesting choice of modules either as taught seminars with labs or as projects in internationally recognised fields of research. Excellent lab infrastructure, highly motivated professors and the beauty of the city of Hamburg will combine to give you a great learning experience.

Each summer semester (March–July), exchange students from our partner universities can gain insight into our expertise in teaching and research, by choosing one or more of the following options in English at Campus Berliner Tor:
1. Elective courses in English
Elective courses (6 ECTS credits) are offered in four different elective areas. An elective course is made up of a lecture and a lab. The elective areas are:
Data Science and Artificial Intelligence
Systems and Software Engineering
Cyber-physical and Embedded Systems
Open Communication Systems
2. Elective team projects in English
Elective team projects (9 ECTS credits) are offered in two elective areas. An elective team project is a collaborative semester-long project, where teams of five to six students work independently, developing for example, an android app or control software for autonomous vehicles. The elective areas are:
Data Science and Artificial Intelligence
Systems and Software Engineering
3. Individual research projects in English (also possible in winter semester)
Students can also choose to complete an individual semester-long research project (6 ECTS) in one of the following research areas of the Department of Computer Science. Students can acquire extra credit, for example, by publishing a paper based on their research (maximum total of 9 ECTS).
Multi-Agent Research Simulation (MARS Group)
Smart Sensing
Data Science
Students can also complete a semester-long research internship in the field of big data and multi-agent research simulation, without taking classes. This programme is part of the UAS7 Internship Program and offers a 1,000 € travel stipend to exchange students from the USA.
Download the module handbook for more information about the courses and projects.
NOTE: Exchange students can also add additional classes in software and hardware from theInformation Engineering programme.

Application deadline:
Summer semester (March–July): 30 October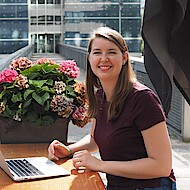 With the MARS research team I developed my programming abilities by learning a new language, my problem-solving skills by making multi-agent models and my professional skills by interacting with new colleagues.
Erika Bryant, USA