Information Engineering – exchange students
Our Bachelor's programme in Information Engineering at Campus Berliner Tor combines computer technology with electrical engineering. Students are introduced to the fields of information and communication and acquire a solid knowledge of hardware and software development.
Exchange students from our partner universities can study for one or two semesters at HAW Hamburg and can choose from the following courses in English at Campus Berliner Tor:
Information Engineering – courses in English
Algorithms and Data Structures
Bus Systems and Sensors
Databases
Digital Circuits
Digital Communication Systems
Digital Signal Processing
Digital Systems
Economics and Management
Electrical Engineering 1
Electrical Engineering 2
Electronics 1
Electronics 2
German (A1 or B1)*
Intercultural Competence
Maths 2
Microcontrollers
Operating Systems
Scientific & Project Work
Signals and Systems 1
Signals and Systems 2
Software Construction 1
Software Construction 2
Software Engineering
Download the module handbook for more information about the classes. Please note that the classes offered in semester 2, 4 and 6 are offered only in the summer semester; the classes offered in semester 1, 3 and 5 only in the winter semester. You can also only take the classes listed above, even if other classes are listed in the module handbook.
* Note: German class B1 depends on whether there are enough degree-seeking students participating. This class is open only for exchange students enrolled in the Faculty of Engineering & Computer Science).

Application deadlines:
Winter semester (Sept.–Feb.): 30 April
Summer semester (March–July): 30 October
(open to: exchange students from partner universities and Global E3 partners only; not open to freemovers)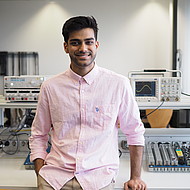 Studying abroad in Hamburg has been a breath of fresh air. It's been an extremely rewarding experience and one that I will always cherish.
Dhyey Shah, Australia