Information Engineering – exchange students
Complex systems that process various kinds of information can be found in many business and industrial sectors. In automotive systems, electronic control units process sensor output to determine the car's current stability and derive counter-measures in critical situations. User interfaces with touch panels read user inputs and control machines in the automation industry. Autonomous vehicles in automated warehouses make use of various sensor signals to find the right shelf. Smart cameras check the quality of parts and goods post-production, and wireless communication systems allow mobile devices to deliver location-based services.
All these fields need people who have the engineering know-how to design the information processing components of these systems – as software architects or designers, electronics engineers, system engineers or test and quality engineers.
Exchange students from our partner universities can study for one or two semesters at HAW Hamburg and can choose from the following courses in English at Campus Berliner Tor to get an insight into this field of expertise:
Information Engineering – courses in English
Algorithms and Data Structures
Bus Systems and Sensors
Databases
Digital Circuits
Digital Communication Systems
Digital Signal Processing
Digital Systems
Economics and Management
Electrical Engineering 1
Electrical Engineering 2
Electronics 1
Electronics 2
Intercultural Competence
Maths 2
Microcontrollers
Operating Systems
Scientific & Project Work
Signals and Systems 1
Signals and Systems 2
Software Construction 1
Software Construction 2
Software Engineering
Download the module handbook for more information about the classes. You can also only take the classes listed above, even if other classes are listed in the module handbook.

Application deadlines:
Winter semester (Oct.–Feb.): 30 April
Summer semester (April–July): 30 October
(open to: exchange students from partner universities and Global E3 partners only; not open to freemovers)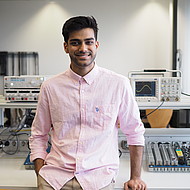 Studying abroad in Hamburg has been a breath of fresh air. It's been an extremely rewarding experience and one that I will always cherish.
Dhyey Shah, Australia