An American in Germany or a German in America? Or maybe both? Simon Hoeps, exchange student from the University of Rhode Island (URI), certainly fits the bill. When we meet for the interview Simon starts the conversation in fluent German and then continues at my request in fluent English.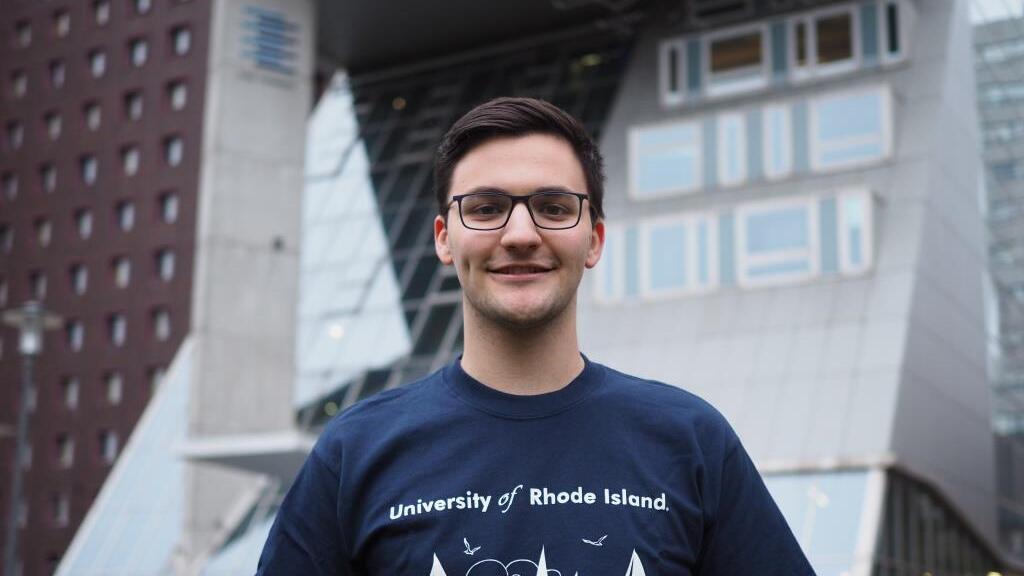 Simon Hoeps - IBP exchange student
'I was born in Germany of German parents, but we moved to the U.S. when I was ten years old', he explains. 'We speak German at home and visit family in Germany regularly, so with my family I feel German, but with my friends in Connecticut I feel more American because we share the same childhood experiences. I suppose I grew up in two countries.'
Simon is currently in his fourth year of the URI International Business Program (IBP)* with a focus on supply chain. And to complement his German-American background this part of his degree is not spent in the U.S. but in Germany, where he is completing a study and internship year. If this sounds like a foregone conclusion for someone with Simon's background, then you would be mistaken. 'I originally wasn't thinking of studying at all', he admits. 'I was sick of school and was thinking instead of going straight into a job after high school. But my parents convinced me that I would have more options if I studied, so I looked at different business schools. Engineering wasn't an option because it was too much math', he adds, laughing. Having decided to apply for the supply chain management degree at URI, it was only at the "Accepted Students' Day" that he learned about IBP from the German department. 'When I heard that I would be doing an internship in Germany as part of the programme, I knew that was what I wanted to do.'
A combination of Business and German
IBP is a five-year programme of business courses and language studies with graduates earning two degrees from URI. It is designed to meet the needs of business and industry in the rapidly evolving global marketplace and to prepare students for international careers. With Simon's background he was obviously put into the upper level German classes, but this is not a requirement. Students are put into a class that matches their language level and with additional intensive summer programmes they can acquire the necessary B2 German before they go abroad. Simon also got a lot of support from IBP alumni. 'I met Claudia (Krah) at URI when I was a freshman. I already knew her from the German Saturday School that I had gone to as a child and she was a big help, giving me lots of tips. And Kayla (Lombardi) had been to Hamburg two years before me and was able to give me a more detailed view about scholarships and classes.'
Studying abroad broadens your way of looking at things. Seeing how other people approach problems makes you more adaptive and more open.
Simon has just spent his first semester in Germany, studying at the HAW Hamburg, where he took classes (in English) in International Business Law, FDI, Trade & Logistics, International Management as well as International Organisation & Cooperation. How does he feel these classes have added to his business expertise? 'At URI we focused on logistics within the U.S. In my Hamburg classes we looked at trade between countries and what you have to bear in mind when you are working on a global scale. My favourite class was International Business Law, because we got to look at international investments, how you would work in an international environment and at law from an international business perspective.'
His semester in Hamburg also introduced him to an international group of friends. He shares a student apartment with Marnix from The Netherlands and they get together with other exchange students to play soccer every Wednesday or the occasional game of poker. 'Studying abroad broadens your way of looking at things. Seeing how other people approach problems makes you more adaptive and more open. The supply chain programme at URI has a national focus and gives you the chance to visit conferences, join student clubs and network. IBP takes those opportunities and gives you an international experience.'
Work experience in Germany
Simon also views his year in Germany as an opportunity to see if he would like to live and work in Germany after graduation and sees the second part of IBP abroad as an important part of this plan. After his exams in January he will be moving to Ditzingen, near Stuttgart, to start his six-month internship with Trumpf GmbH & Co. KG. He was originally looking for an internship in the automotive industry, but URI had connections to the U.S. branch of Trumpf in Connecticut and Simon was fascinated by the complexity of the logistics behind the company's customized machines. 'What also convinced me was that after the interview they designed an internship profile to fit my interests, which is pretty rare. I will have the opportunity to see how the dispositions department works and come up with ideas on how to make it more effective. I am going to be thrown in at the deep end', he adds, smiling, and you can tell this is what he has been looking forward to all along and that he can't wait to get started.
iw/2019