Strategic partner - U. of Rhode Island
A strategic cooperation in International Business: The cooperation with the University of Rhode Island (URI) began in 2007 and over the years has developed into an strategic partnership. URI is a public university and is ranked #166 "National Universities" (U.S. News Best Colleges 2020). The College of Business has an Association to Advance Collegiate Schools of Business (AACSB) accreditation and has with its degree programmes in 'Global Business' and 'Supply Chain' the same business majors as the Department of Business at HAW Hamburg. In addition to semester exchange the universities have developed joint programmes to deepen and expand the relationship further:
Double degree programme 'International Business'
The double degree programme between the Department of Business at HAW Hamburg and the College of Business at URI started in the winter semester 2012/13 and is based on the Bachelor degrees 'Foreign Trade / Internationale Management' (HAW) and 'Global Business Management' (URI). Within the four-year programme students at both universities complete four semesters at their home university before studying for an academic year at the partner university. The participating students are better prepared for a global career by experiencing the different business cultures (USA v. Europe) and developing intercultural competencies. Graduates receive a Bachelor degree from both universities and thus expand their career opportunities and mobility. From 2011 to 2017 HAW Hamburg received funding from the German Academic Exchange Service (DAAD) to develop and promote the double degree programme. Double degree curriculum
An American in Germany or a German in America? Or maybe both? Simon Hoeps, exchange student from the University of Rhode Island is currently in his fourth year of IBP and to complement his German-American background this part of his degree is not spent in the U.S. but in Germany. Read more
International Business Program (IBP)
The University of Rhode Island (URI) also offers the 'International Business Program (IBP)' in collaboration with HAW Hamburg. As part of a five-year Bachelor's degree programme URI students complete a study and internshp year in Germany. The study semester is at the HAW Hamburg; the internship semester with a German company. URI has very close contacts to large German companies and in this way enables students to gain an insight into the global workplace. Parallel to the Business degree the URI students learn German as a foreign language and complete their studies with two degrees. The knowledge of the German language and business culture often results in IBP graduates working in Germany and/or for a German company.
IBP graduate, Dan Belbey (2013), completed his internship with BMW in Munich. After his Master's degree he was offered a place in the BMW Global Leader Development Program in South Carolina. After an assignment in Mexico he now works for BMW in South Africa.
My study abroad was incredibly important and crucial for my career path. I work in global supply chain planning and speak more German on a daily basis than English. The study experience at the HAW Hamburg made this all possible.
Dan Belbey, USA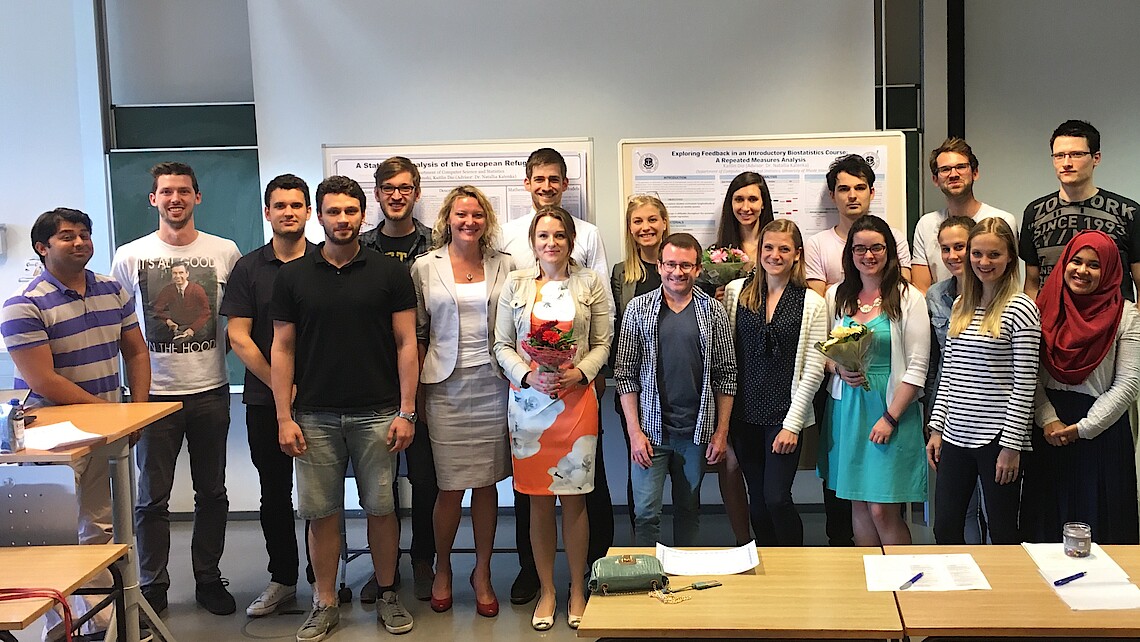 Prof. Natallia Katenka Business Statistics Master Class
The joint study programmes are supplemented by faculty exchange to deepen the cooperation with URI with guest lectures in both Hamburg and Rhode Island. Since 2016 there has also been a cooperation with the URI professor, Natallia Katenka from the Department of Computer Science & Statistics, who leads a Master's workshop in the field of quantitative data analysis in Hamburg. The Master's students at HAW Hamburg work on current topics, such as the impact of the COVID-19 pandemic on financial markets in a regional comparison. Data collected by the students serves as the basis for the research material, which is evaluated, analysed and interpreted with the help of the statistics tool R under the guidance of Professor Katenka. The workshop is a component of the lecture "Multinational Enterprises and the Global Economy" by Prof. Dr. Natalia Ribberink and offers an international experience for students who could not go abroad. It is also regularly the basis for further dissertations as well as for joint research projects in the Dynamic Networks Research Group. Article