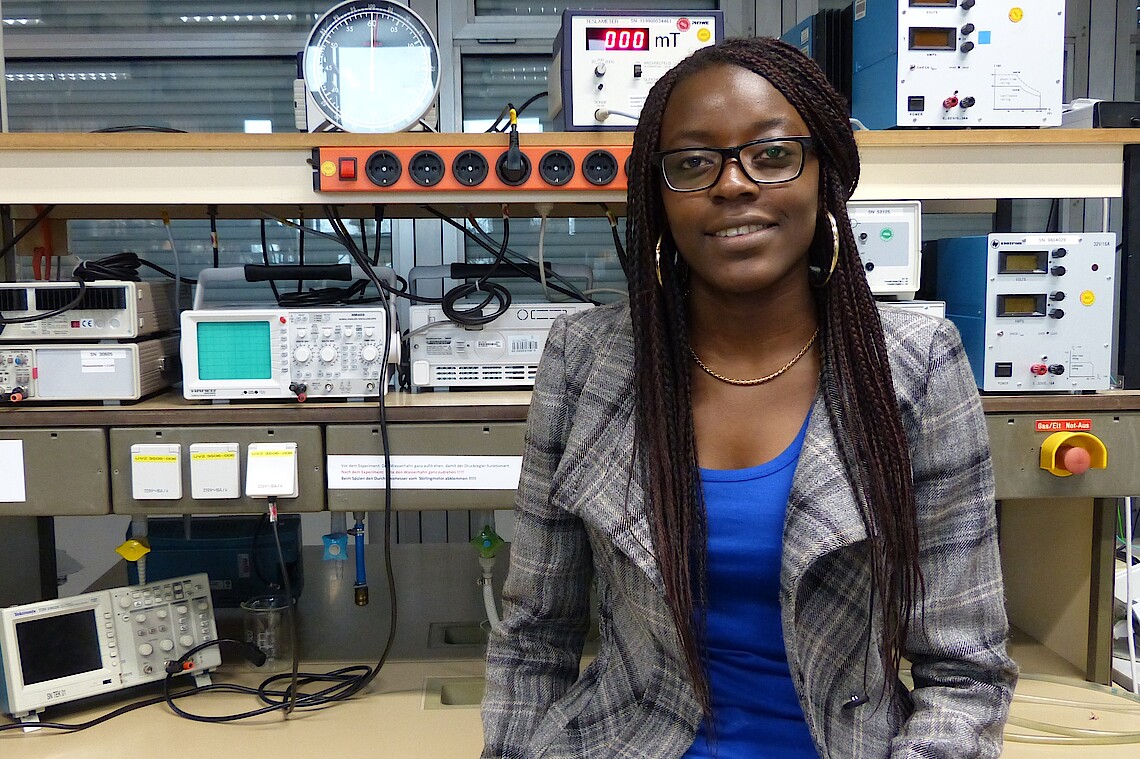 Lienou Lzeutchi, Cameroon
Our appointment for an interview is in one of the many labs of the Faculty of Life Sciences. We are on the HAW Hamburg's second largest campus in Bergedorf, a twenty-minute trip on the S-Bahn from the main campus at Berliner Tor. And it is this world of technology that 20-year-old Lienou Lzeutchi from Cameroon has called home for three semesters. "When I was looking into the options for studying in Germany, I didn't have any fixed degree programme in mind," she explains, "but I was looking for a combination of science and engineering."
She found what she was looking for in the Bachelor's programme in Process Engineering at the HAW Hamburg. "This is exactly what I wanted to do," she says, and explains: "There is a lot of mechanical engineering, chemistry, physics and natural sciences. And we're doing some exciting projects this semester too." Compared to university life in Cameroon, where she studied Biology for two years, she finds her degree programme at the HAW Hamburg a much more personal experience. "The groups at university in Cameroon were always very big," she explains. "At the HAW Hamburg it is much better. Here we get to study in small groups and you can always ask the professors directly if something isn't clear."
Did you find things difficult in Germany to start with? "I found it cold!" she laughs, "and that was in the summer!" She continues: "German was my favourite subject at school and I also learnt German for another two years while studying biology. That meant I was well prepared when I arrived in Hamburg. I also did the preparatory course (Propädeutikum), which is something I highly recommend. This meant that when I started my studies, I didn't experience any language-related difficulties in the lectures." The Propädeutikum is an induction semester for international students. In three months before starting your studies, you get to learn the basic academic terminology and get an introduction to the German university system. The programme also includes excursions and visiting lectures. "But it wasn't all about learning and studying. "We also had fun. And the people who led the programme were great and our problems and worries were taken very seriously there."
Ines completed her high school leaving certificate when she was just sixteen, which is a unusual achievement. It is therefore no surprise that she is among the students who receive a scholarship at the HAW Hamburg. From the third semester onwards, the HAW Hamburg awards scholarships from the German Academic Exchange Service (DAAD), the Karl-Heinz Ditze Foundation and from state funding from the City of Hamburg. Each year the university is able to award approximately 80,000 Euros in scholarships. When I heard about this programme, I was even more motivated to get good grades. My scholarship means that I don't have to work part-time as much and I can focus on my studies more."
And she already knows what she wants to do when she finishes her degree: "I want to work in the area of renewable energies." We wish her every success in achieving her goals.
iw
17.12.2103