Biotech and Environment – exchange students
The Faculty of Life Sciences at Campus Bergedorf is the second-largest faculty at HAW Hamburg and offers a wide range of engineering programmes in environmental engineering, biomedical engineering, pharmaceutical biotechnology and process engineering. It focuses especially on teaching and research on renewable energies and environmental engineering, and has an Energy Campus for research. This also reflects the city of Hamburg's strategic focus on renewable energies.

Each summer semester (April–July) exchange students from our partner universities can gain insight into this expertise by taking some of the following classes in English at Campus Bergedorf:
Biotech and Environment – courses in English
Applied Hydrobiology
Downstream Processing of Natural Products
Feedback Control Systems
Human Resource and Staff Management
Instrumental Analysis*
Mathematics 3
Pharmaceutical Toxicology
Project Management
Renewable Energies

–

Fuel Cells**
Renewable Energies

–

Photovoltaic Applications**
* Limited number of places ** module exam

Download the module handbook for more information about the classes.
..........................................................................................................................................
Renewable Energy Systems (graduate exchange only)**
Bioenergy

–

Biofuels
Data Acquisition
Energy Conversion***
Methods and Tools for Advanced Control Systems
Wind Energy

** Subject to approval by the department. Must have sufficient prerequisites.
*** Class partly in German

Download the module handbook for more information about the classes.
If capacity allows, exchange students can also take one or two classes in Nutrition and Health.

Application deadline:
Summer semester (April–July): 30 October
(open to: exchange students from partner universities, Global E3 partners and freemovers)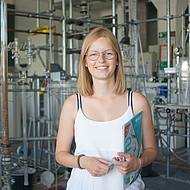 My classes were very practical. We did a few excursions to companies in Hamburg and we had speakers from industry who talked about their jobs.
Axelle Dagnelie, France