Social Work – exchange students
The Department of Social Work is located at our main Berliner Tor Campus in St. Georg, a vivid, multicultural quarter in the heart of the city of Hamburg. With its 1.8 million inhabitants, Hamburg is Germany's second-largest city after Berlin and an international port. Living and studying in Hamburg provides students with a wide range of insights into different cultures and lifestyles as well as into social problems and their solutions in a modern urban community.

The Department of Social Work offers 'Social Work' and 'Education and Learning in Childhood' undergraduate programmes, which prepare students for a diverse range of social occupations and work in childhood education. They reflect the complexity of social work in a modern society.
Each summer semester (March–July) exchange students from our partner universities can gain insight into this expertise by taking some of the following classes in English at Campus Berliner Tor:
Social Work / Education and Learning in Childhood – courses in English
Challenging injustice and discrimination: Transformative social work
Children's books
Evidence-based policy & practice in early education
Global mental health
Morality, social justice and principles of human relationships in modern societies
Post-Corona: Lessons learned for leadership and governance in social work and childhood education
Qualitative and quantitative research methods
Strengths-based interventions with children and families
Teamwork and team building
Faculty exchange classes: (summer semester only)
Intercultural Learning in Theory & Practice
Selected Business Topics: The Hamburg Metropolitan Region*
NOTE: Courses can change from one year to the next. * not for English native speakers
Download the module handbook for further information about the classes.

Exchange students can also take classes in Nursing and Healthcare.
In addition, if capacity allows, exchange students can also take Project Management and/or Working in Multicultural Groups at the Faculty of Life Sciences (Bergedorf Campus), Nutrition and Health. Please be advised that the Bergedorf campus is 30 minutes from the Berliner Tor campus.
Application deadline:
Summer semester (March–July): 30 October
(open to: guest students from partner universities only; not open to freemovers)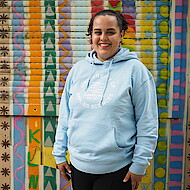 The classes are super hands-on. You work with classmates on projects or mini presentations. I love that it is an open dialogue; a conversation.
Raquel Paz, USA