The Spanish language cafe is open to all HAW Hamburg students who are interested in talking about various topics in Spanish in a relaxed setting. Native speakers and students who can speak Spanish at the B1 level or above are very welcome to attend. This is a good opportunity to polish your Spanish skills, enjoy intercultural interactions and get to know some new people. The cafe is also a super place to prepare for a semester abroad in a Spanish-speaking country.
The language-cafe programme includes board-game evenings, presentations about various Spanish-speaking countries, activities to stimulate conversation, and joint dinners.
Since winter semester 2021/22, the Spanish language cafe has been held every Tuesday from 6:00 pm to 8:00 pm in room 124 of the ST69 building (Stiftstraße 69). Once in a while the meetings are also held in a park, a cafe or a restaurant. The locations and topics are sent out via the language cafe's WhatsApp group.
If you are interested in attending or have questions, feel free to contact our student tutor via email.
The language-cafe team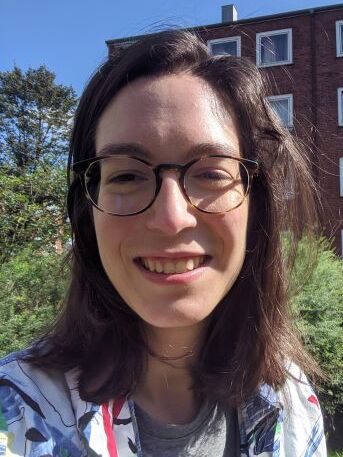 Celia (32) is from Spain, is studying Illustration in the Department of Design at the Finkenau Campus, and has been a tutor for the Spanish language cafe since winter semester 2021/22. Her passions include drawing comics, making creative jewellery, and learning Japanese.