The Spanish Language Cafe is open to all HAW Hamburg students who are interested in talking about different topics in Spanish in a relaxed setting. Native speakers and students who can speak Spanish at the B1 level or above are very welcome to attend. This is a good opportunity to polish your Spanish skills, enjoy intercultural interactions and get to know some new people. The cafe is also a super place to prepare for a semester abroad in a Spanish-speaking country.
The language-cafe programme includes board-game evenings, presentations about various Spanish-speaking countries, activities to stimulate conversation, and joint dinners.
The Spanish Language Cafe takes place every Tuesday from 6:00 pm to 8:00 pm in room 124 of the ST69 building (Stiftstraße 69), building 1 at Campus Berliner Tor. Once in a while the meetings are also held in a park, a cafe or a restaurant.
If you are interested in attending or have questions, feel free to contact our student tutor via email: Celia.EsponaPernas (at) haw-hamburg (dot) de
The language-cafe team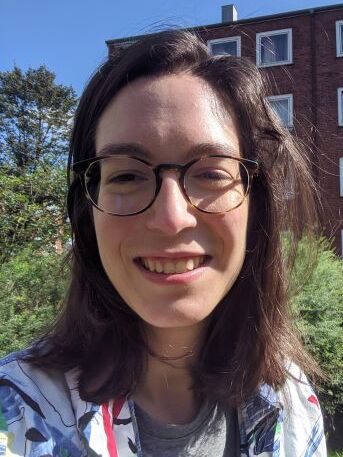 Celia (32) is from Spain, is studying Illustration in the Department of Design at the Finkenau Campus, and has been a tutor for the Spanish language cafe since winter semester 2021/22. Her passions include drawing comics, making creative jewellery, and learning Japanese.