A career in renewable energies
Priyanka Mascarenhas wanted to learn more about renewable energy and saw Germany as the leader in these technologies. She left behind a successful career in India to pursue a Master's degree in Hamburg.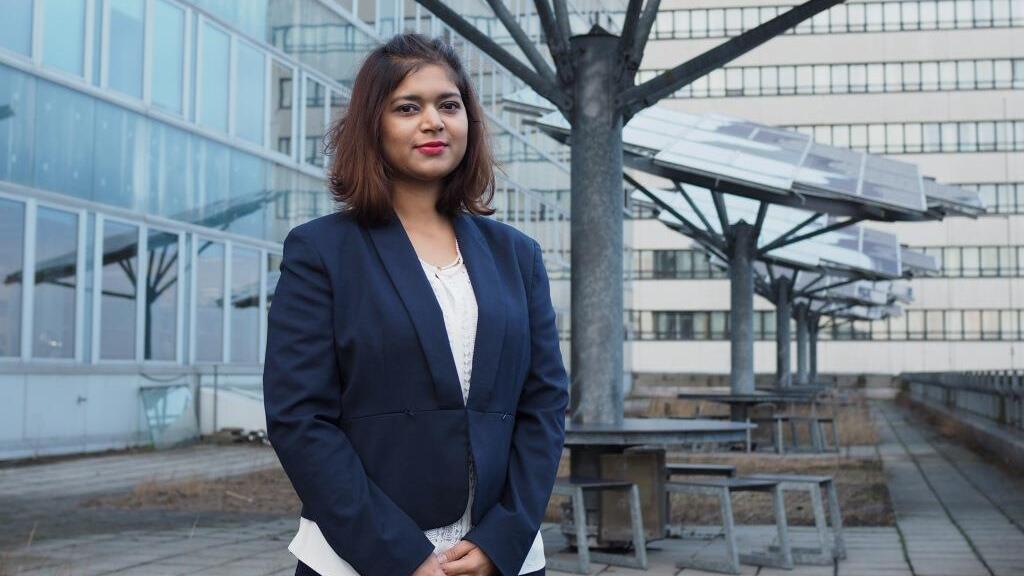 Priyanka Mascarenhas - Renewable Energies
It is a grey, overcast January day in Hamburg when we meet Priyanka Mascarenhas for an interview and the sunbrellas on the roof terrace of the main administration building at Campus Berliner Tor are not converting much sunlight to electrical power. But it is the perfect backdrop for a photo of the 29 year old student from Pune, India, who moved to Germany in October to complete a Master's programme in Renewable Energy Systems at Hamburg University of Applied Sciences (HAW Hamburg).
The path to engineering
Priyanka is a very warm and open person and we are soon chatting about her educational background and work experience before coming to Hamburg. As an engineer she is an exception in her family, as neither her parents nor any other members of her family work in this field. So why did she choose this path? 'In India if you are good at maths and science you have two options – medicine or engineering. I am good at both subjects, but I can't stand the sight of blood, so that left me with engineering', she says, laughing. This decision took her at the age of just 17 years to Pune University, where she studied a Bachelor's degree in Electrical Engineering. The first year wasn't easy and she admits, she took it too casually initially and underestimated the tough workload. But support from senior students and threats from her mother put her back on track. 'My mother told me if I didn't successfully pass the first year, I would be married off!', she admits, laughing.
And it is her mother, who has been her role model over the years. Growing up in a village in India, she educated herself by going to a school in the city and was the only one of her five siblings to get a high school education. By the time she married Priyanka's father in the 1980's she had the same position as he did in the same company. 'My Mom is so strong. Her life is inspiring.'
Developing your core knowledge as a career
Priyanka has taken this inspiration in carving her own way in life. After completing her Bachelor's degree in 2009 and graduating top of her class, she was offered a job as a Junior lecturer, teaching Bachelor students at Bharati Vidyapeet Uuniversity. After a year she made a difficult decision. 'I had a job in the public sector and could have followed an academic path and got old with a tenure position, but I always want to explore new things, so I gave up the security and moved to a career in industry.'She worked initially for 21 months as a Junior engineer for the Maharashtra State Power Generation Company, where her job took her to three different locations in India, working with three different forms of power (thermal, hydro and gas). 'It was a big achievement for me. I was away from my family and the only girl on site', she says and adds, 'but the main challenge was that the company was situated in a village. It was just you and your job.' As in college she says she learned a lot from her senior colleagues and was able to develop her core knowledge in power plant engineering.
I wanted to learn more about renewable energy forms and Germany is the leader in this technology. And in Europe I have the opportunity to learn more about different cultures.
In 2012 her next job took her back to Pune, where she worked as a manager for Oasis Engineers & Consultants in the area of mechanical, electrical and plumbing (MEP) design. She worked on projects in Dubai and India, developing her skills in auto-cad design and efficiency improvement of MEP systems for both residential and commercial buildings. She also married her childhood sweetheart and friend since 5th grade; a step that for some Indian women can often mean an end to their career. 'My husband is very supportive and stands by me, encouraging me not only in my career but also in my decision to do a Master's degree.' Not an easy decision, as it turns out, as Priyanka was determined to study in Germany; 'the father of engineering', as she calls it. 'Many Indian students want to study in the United States, but that was one of the reasons, I didn't want to go there. Too many Indians', she says, laughing. 'I wanted to learn more about renewable energy forms and Germany is the leader in this technology. And in Europe I have the opportunity to learn more about different cultures.' She applied and got offers to several German universities, but decided to study at the HAW Hamburg, because the English Master's programme 'Renewable Energy Systems' offered the best insight into different alternative forms of energy and power plants.
A Master's in Germany
Problems getting a visa meant she arrived five weeks late into the semester, but she says she was integrated quickly. 'The professors and other students were really supportive, helping me with classes and even finding a place to live. I also have a wonderful buddy as part of the university's weBuddy programme. Sarah, another HAW Hamburg student, collected me and my 80 kgs(!) of luggage at the airport and helped me with all the administration. But most importantly she has become a real friend and we meet up once a week to eat together, go shopping or just share some time talking.' Another piece of good fortune is her landlady, who has been very welcoming. They cook together and go to concerts, where they share their love of music. 'Before I came to Germany I was expecting people to be cold and not welcoming, but thankfully I have been proved totally wrong.'
Her first semester is nearly over and she is in the middle of exams, so what have her classes been like so far? 'The classes are really interesting, especially because they are so close to current developments in industry. My favourite professor is Professor Timon Kampschulte. His lectures are full of practical examples and you feel you know exactly what is currently happening in the solar industry. His calculations are so clear; we could design a power plant right now', she adds, laughing. Solar energy and photovoltaics are her favourite topics, but she is also looking forward to learning more about wind energy and bio fuels.
We are also curious to hear how she is coping in a male-dominated field, as there is a much higher ratio of male students to female students in the HAW Hamburg engineering programmes and she completed her Bachelor`s degree at an all-girls college. 'I don't have any problems. I have always been an outspoken and social person and I have always been more of a tom boy«, she says, smiling. 'In my work experience I found it was important to keep your professional and private life separate, but at college we are all equal.'
When the exams are over she is looking forward to a visit back to Pune during the holidays and India is where she ultimately sees herself in the future. 'It is India's goal to achieve 175 gigawatt of energy from renewable energies and so far we have managed only five percent. I want to help India take an example from Germany and reach this target by bringing my knowledge as a woman of renewable energies.'
Priyanka, it was wonderful talking to you and we wish you all the best for the exams and for the next semesters of your Master's degree.
iw/2017