International Business – exchange students
Today global competition determines the markets, with goods, services and information exchanged via worldwide networks. Hamburg is one of the most dynamic business centres in Europe and is home to many international companies. It is Europe's second-largest port and Asia's gateway to Europe, and it is also the third-largest centre for civil aviation, with Airbus as a major business engine for the city. The Department of Business at Campus Berliner Tor prepares its students for the global economy with an international management programme focusing on different aspects of international trade.

Exchange students from our partner universities who are enrolled as business majors can study for one or two semesters at HAW Hamburg and can choose from the following business classes in English:
International Business – courses in English
International Accounting and Taxation
International Business Law
International Capital Markets
International Corporate Finance**
International Economics 2
International Human Resource Management
International Management
International Marketing*
International Organisation & Cooperation
International Trade and Logistics, FDI**
Fundamentals of Corporate Finance* (winter semester only)
Working successfully in an international environment also requires excellent intercultural soft skills. The International Business programme offers a special focus on the field of cultural and social sciences from a business perspective. The following classes are in English:
Academic Research and Writing
Country Studies
Intercultural Communication and Competence
Project Work
Intercultural & interdisciplinary case studies*
Faculty exchange classes:
Intercultural Learning in Theory and Practice (summer semester only)
Selected Business Topics: Commodity Trade (winter semester only)***
Selected Business Topics: The Hamburg Metropolitan Region (summer semester only)***
*limited places; **online course; *** not for native English speakers
Download the module handbook for more information about the classes.
NOTE: These international business classes are open only to exchange students who are business majors at their home university. Students must provide proof that they have successfully completed business classes in the form of a transcript of records.

Application deadlines:
Winter semester (Oct.–Feb.): 30 April
Summer semester (April–July): 30 October
(open to: exchange students from partner universities only; not open to freemovers)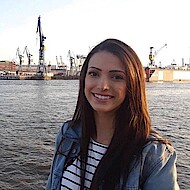 Many German companies have offices in my state and I wanted to get to know the German way of life better, because it seemed so different to the Brazilian one.
Maria Isabel Pereira Soares da Silva, Brazil